We are in the most uncertain times of our lives for sure and the whole country is about sick of toggling back and forth between Phase 1/Phase 2/Phase 3. To lockdown or not to lockdown. Stay in or go out. Mask or no mask. Chile…I know I am sick of it and have had it up to here with all the uncertainty. We all would love to "go back to normal" but I think it is safe to say this quarantining is our "new normal" – at least for now.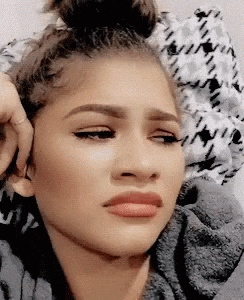 One thing that is for certain, we are all sick of looking like bums. Ok, I can't speak for everyone but I know the majority of us have been sans fly since March-ish and at this point, don't even know when we can be TRULY fly again. Being locked up doesn't mean we have to look like we reside in Cell Block 8. Working on your look, or just looking decent, can actually help to lift your mood, bring you a small sense of normalcy, and give you a reason to wear one or two of those 50/11 outfits you've purchased online between March and now in hopes that outside opens back up. Let's put our skills back to use and feel good again. Here are 5 ways to stay fly during quarantine:
1. Get a protective style.
This one has personally saved me and makes me feel like I can look like somebody at the drop of a hat. Not having to worry about doing your hair during this time is not only refreshing, but motivating, when you think about working out and then hopping on a Zoom call later. You can go from bed to brunch (socially distant but still) in no time. Whether you choose braids, crochet, wigs or sew-ins, as long as it is low maintenance, you are good to go.
2. Develop a REALLY GOOD skin care routine.
Quarantine is a great time to determine which products agree with your skin and which don't. Being away from people for the most part and stuck indoors majority of the day, trial and error with your skin is for only you to know. The best part is that once you figure it all out, you will have clear, healthy skin that needs minimal upkeep once it is time to log into a zoom meeting or step out the door. The message here is to keep it minimal but still look good – a great skin care routine will always make that a certainty.
3. Keep your nails and toes up to par.
This is going to be a hard one for a lot of people because most do not like to do their own nails. Good thing we are in 2020 and press on nails are not like they used to be. Your hands can go from bleak to chic as fast as your glue can dry. There are so many options on the market for beautiful press on nails that you can get at your local drugstore to custom nails from your favorite nail tech (that offers them – but there are a TON who do). With this type of godsend, there is no reason your hands should not be presentable at all times. For the toes, if you aren't willing to do them yourself, at minimum keep a foot file in the shower and nail clipper and file by the bed. Groomed is better than not. You can also always put on some fly sneakers.
4. Practice your 5 minute face.
Most of us who cares about being even slightly fly during quarantine have a 5 minute face already mastered. For those who do not, this is the perfect time to figure out your signature look. The main products you need are mascara, blush, lipstick or gloss, eyeliner and concealer. At this point, your skin care routine should be ironclad and your skin should be flourishing. You've been drinking your water and minding your business and it shows. The canvas is prepped and all you need is 5 minutes to look like a doll. Put these items in your favorite spot on your vanity for easy grabbing and going. Your online meetings will never catch you slipping.
5. Wear the clothes, sis!
This is my favorite part because I am mainly talking to myself here. I know many of you can relate to my struggle – wearing workout clothes daily (because comfort) and going sans makeup, etc. Not only are you wearing the same comfy style clothing day after day, but you are also buying new clothes like they are going out of style. What the hell?? Well, now it is time to wear the clothes. Putting the clothes on makes it feel like buying them isn't a complete waste – and let's be honest, we do not know when outside will open back up again so we may as well wear them while we can. I know what you are thinking; "who is going to see me in these clothes though?" Girl…YOU WILL. You are looking fly for YOU! It will raise your mood, trust me. Your hair is already done, your skin is popping, nails are killing, makeup is chic, this step is the only one left and it is the most important. So go in that closet, pull out some pieces, and slay the day!
I know that seemed like a lot but for those who care, and it must be you if you are reading this, it really isn't that bad. We all love a good reason for getting fly and what better reason than JUST BECAUSE! I love knowing that we all haven't given up on life due to being quarantined for what feels like forever and am dying to see what looks you put together to stay fly during quarantine. Let me know in the comments which steps have you already been implementing and which ones will you start implementing. Now…GO SLAY!